Awards and Accolades
The #1 Company-Wide Producer for 2022 – Paulette Greene.  Paulette has made a name for herself, selling homes across Dallas/Fort Worth, TX, and the industry recognizes it.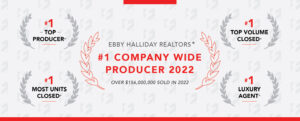 Paulette has worked hard to become a leader in the highly competitive world of real estate. It has required years of proven results, involvement with local and nationwide builders, the growth of her business and personal network, and an intimate familiarity with all Dallas / Fort Worth neighborhoods and areas.
So, whether you want to buy a house in Frisco or Plano, Allen or Richardson, from Fort Worth to Dallas, choose the only Realtor with Ebby Halliday, who has won top awards in every single category.