Corporate Relocation Expert For Over 30 Years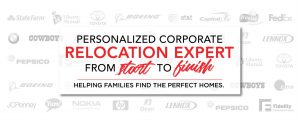 Paulette Greene has worked hard to become a leader in this highly competitive and specialized area of real estate. It has required years of proven results, involvement with local and nationwide builders, the growth of her business and personal network, and an intimate familiarity with all the neighborhoods and areas of Dallas / Fort Worth.
You will receive personalized service to ensure your thorough satisfaction, whether you are relocating across the country or from around the world.
Since 1990, Paulette Greene has maintained an edge by aligning herself with her mentor Ebby Halliday, the founder of RELO and Ebby Halliday Realtors. Ebby's 19-member, award-winning Corporate Real Estate Services division is the most experienced relocation division in the country.
The most important ingredient in relocation is getting to really know your customers. Paulette Greene has the ability to listen and truly understand her customer's needs; she can provide information on children's activities, schools, recreational areas and shopping. The key to the relocation process is working with someone who can build immediate trust to make this transition painless.
Companies like State Farm, Toyota, JC Penney, Frito Lay, and the Dallas Cowboys choose Paulette Greene and Ebby Halliday Realtors when they need assistance relocating to the Dallas / Fort Worth Metroplex and surrounding cities like Plano, Frisco, Allen, McKinney, Highland Park, Celina, and Prosper.
If you are looking into relocating to the Dallas / Fort Worth Metroplex area, contact Paulette Greene today. Our team will be happy to further discuss your move!