Ebby Halliday Foundation Launches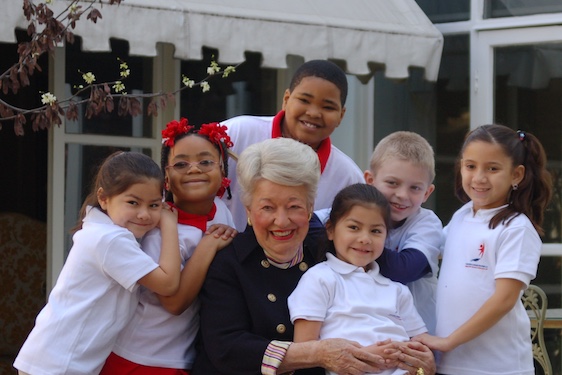 Ebby Halliday Acers, founder of Ebby Halliday Realtors and prominent Dallas philanthropist, is being honored with a namesake foundation that will continue her substantial philanthropic work across North Texas. The Ebby Halliday Foundation, a 501(c)(3) organization, supports charitable and educational activities that serve women and children in need in the greater North Texas region. Ebby passed away in 2015 at age 104.
Having opened the doors to successful careers for thousands of people, Ebby was widely admired for her passionate leadership and tireless altruism.
"Each of us who had the good fortune of knowing Ebby was touched by the grace, fortitude and compassion with which she lived her life," says Mary Frances Burleson, president and chief executive officer of the Ebby Halliday Companies and a founding member of the board of directors of the Ebby Halliday Foundation. "Ebby had a very simple saying that she lived by, 'Do something for someone every day.' That small bit of wisdom served Ebby very, very well and has had a tremendous impact on many individuals and organizations in North Texas."
Adds Ron Burgert, chief financial officer of the Ebby Halliday Companies and a founding member of the board of directors of the Ebby Halliday Foundation, "With the creation of the Ebby Halliday Foundation, we intend for Ebby's impact to continue to be felt across our region for a long time."

Among the many tributes to Ebby's philanthropic legacy in North Texas are Juliette Fowler Communities' The Ebby House, an innovative transitional community for young women who have experienced foster care or have been abandoned, displaced or abused; the WiNG's Center at Ebby's Place, which helps lift economically challenged working women out of poverty; and the Ebby Halliday Library at Happy Hill Farm in Granbury, a 500-acre farm that is home to North Central Texas Academy, an independent college-preparatory day, boarding and international school which seeks out underserved students. And in 2011, she was honored with the new building and naming of the Ebby Halliday Elementary School in Southeast Dallas.
Throughout her life, Ebby's dedication to her profession and her fellow man remained constant. Ebby was honored with The Horatio Alger Association of Distinguished Americans award, which honors the simple but powerful belief that hard work, honesty and determination can conquer all obstacles.
"For Ebby, a successful life was about much more than extraordinary sales figures," says Kay Weeks, a sales associate with Ebby's Little White House office. "Ebby's other great passion was service to the community she proudly called home. Ebby's, and our company's, philanthropic influence on North Texas cannot be overstated. Ebby did not have children of her own, but she helped educate and support many young people."
To learn more about the Ebby Halliday Foundation and/or to donate, visit ebbyhallidayfoundation.org. For more information, call 214-294-5770 or email info@ebbyhallidayfoundation.org.