How Frisco Won New HQ, Championships from PGA of America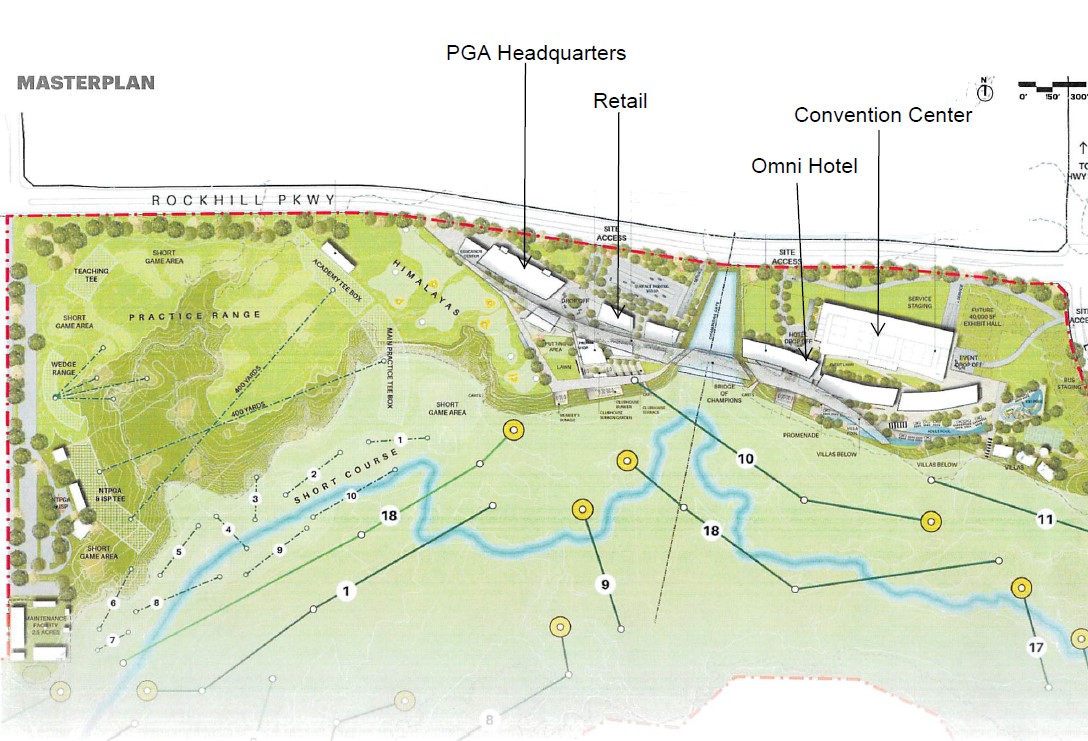 The new 600-acre project is expected to have a $2.5 billion economic impact over the next 20 years.
Already a mecca for football, soccer, baseball, and hockey, Frisco is getting into the golf game—big time. The city has won a hotly pursued headquarters for the PGA of America, which is relocating from its current home in Palm Beach County, Florida. The association will anchor a 600-acre, mixed-use development with an initial investment of more than $500 million.
Along with a 100,000-square-foot headquarters, the campus will include two championship courses, a short course, a 127,000-square-foot conference center, retail village, parks, and a 500-room Omni resort. It will sit just south of U.S. 380 at Rockhill Parkway and Legacy Drive, within a 2,500 development being masterplanned by Hunt Realty Investments. The PGA is partnering with the city of Frisco and its economic development arm, Frisco ISD, and Omni Stillwater Woods, a joint venture led by Omni Hotels & Resorts, Stillwater Capital, and Woods Capital, which bankrolled Trinity Forest Golf Club in South Dallas. Its getting about $160 million in incentives from various entities, but Frisco officials say the project will have an economic impact of more than $2.5 billion over the next 20 years.
Darrell Crall, chief operating officer for PGA of America, was among those at a press briefing last night. He previously had spent about 15 years in the region, when he worked as executive director of the PGA's North Texas section. Here's what Crall told me when I asked how Frisco had won out:
"It became incredibly apparent to us as we went through the process that having a central U.S. location made perfect sense. Then you combine it with such a strong business climate and a passionate sports base, and then you look at the work force, which is well educated and it's diverse. We thought it would be additive to the team we have. And, frankly, the city of Frisco is filled with dreamers. They create big dreams and make them happen. We felt this was an absolute bullseye for us.
"We also felt we had great partners, with the city, Omni Stillwater Woods, and Hunt Realty. It takes a team to put anything like this together, and Frisco is a city of teams. … They put together a complete package."
The PGA will bring 26 championships to Frisco between 2023 and 2034: "That includes our majors, certainly the PGA Championship, KPMG Women's Championship, Our Kitchen Aid Senior Championship, and also our boys and girls championships, PGA junior league golf, and events for our club professionals," Crall said. "It's really unprecedented for us."
What about the Ryder Cup? "Any Ryder Cup opportunities will be based upon the performance of the PGA Championships. If the PGA Championships perform at a high level, then certainly there is an opportunity for the Ryder Cup to happen [in Frisco]. We certainly hope so." See original article.